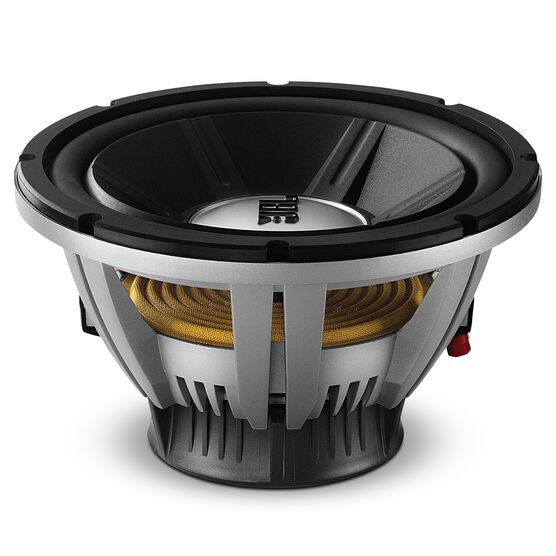 GTO1214D
Details
https://www.jbl.com.my/car-subwoofers/GTO1214D-.html?dwvar_GTO1214D-_color=Black-USA-Current
---
Powerful 12 inch Dual Voice Coil (DVC) Subwoofer
Big bass with Polypropylene woofer cone
Road noise can destroy realistic audio that always requires true low frequencies. Polypropylene delivers rigidity, with good internal damping, and complete weather-resistance. You get an impossible-to-miss increase in thumping bass.
A JBL-proprietary frame, broad installation options
The proprietary die-cast frame design allows maximum cone excursion while reducing overall mounting depth. The die-cast structure maintains precise alignment tolerances over years of blasting music and rough roads. You get all the bass you've paid for.
Exceptional venting for increased power handling
Woofer motor structures heat up during use, causing distortion, or power compression that reduces music's dynamic range, robbing the sound of realism. JBL uses vented motor structures and polepieces that get rid of more heat to deliver more serious bang.
Outstanding audio output, low distortion
With 350 watts RMS and 1400 watts of peak power handling, the GTO1214D changes the experience of listening to your favorite music in your car. Dual voice-coils increase system design options by allowing 2-ohm or 8-ohm operation. And a progressive spider gives better control for lower distortion at excursion limits.
Designed for sealed, vented, and bandpass enclosures
Different people have different opinions on what makes the best subwoofer box. Have it your way with the GTO1214D, it can handle anything.
Get the lows bumping big with the GTO1214D, a subwoofer design triumph from the JBL® Grand Touring® Series family. It delivers deep, solid, tight bass and serious power that can only come from the leader in live performance sound. GTO subwoofers include die-cast aluminum baskets, polypropylene cones, rubber surrounds and a unique tinsel wire protector. The GTO1214D has dual voice coils and 1400 watts of peak power handling. It can handle whatever you can dish out. Sure, it's your car. But we think we know what your standards are no matter where you are and where you go – and they're ours too.