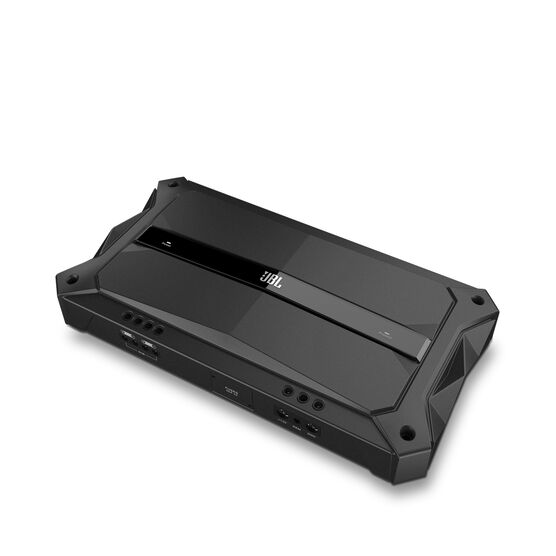 GTR-1001
Details
https://www.jbl.com.my/car-amplifiers/GTR-1001_.html?dwvar_GTR-1001___color=Black-GLOBAL-Current
---
Mono Channel, 2600W High Performance Subwoofer Amplifier
Bluetooth® audio streaming and telephony support
The two full-range, multi-channel GTR amplifiers feature Bluetooth® connectivity for wireless audio streaming from phones and other devices. You can receive phone calls through your car audio system, just by touching a button on an included control panel.
Party Mode wireless pairing
The GTR-amplifiers offer Party Mode, a multi-pairing capability that enables Bluetooth® devices to stream audio individually. When Party Mode is selected from the cabin-mounted control panel, anyone in the car can drive the music.
Cabin-mounted control panel
The GTR multi-channel amps come with a wired control panel that incorporates an omni-directional microphone and puts a range of functions at your fingertips. You can activate Bluetooth® pairings, accept and end phone calls, select Party Mode and cancel Clari-Fi™.
Class D amplification
Every GTR amplifier, including the full-range models, is a Class D. These high-efficiency, low-heat amps generate a lot of power without drawing much current, and feature small footprints.
Full-range line outputs
The full-range GTR amplifiers includes full-range line outputs. This enables them to pass the audio signal to additional amps that power subwoofers, increasing your system configuration options.
High-Level Low Level Inputs
The GTR-1001 will accept both high level and low level inputs which allows for interface to both factory head units and aftermarket head units. A simple switch is provided to properly set the input level correctly. To ease installation from high-level inputs, proprietary bare wire to RCA connector adapters are included.
Variable Electronic Crossover
The GTR-1001 has a built-in variable electronic crossover which allows for precision tuning of your subwoofer. Tuning is available from 32Hz- 320Hz. Our crossovers are low-noise and easily adjustable using a small slotted screwdriver versus finger controlled crossovers to ensure the setting stays put.
Variable Bass Boost Control
Looking for a little extra thump, the GTR-1001 comes equipped with a variable bass boost control which allows you to tune your box based on type and location.
GTR Stadium Amplifiers
Amplifiers with a small footprint and big impact. GTR mono and full-range, multi-channel amplifiers deliver the efficiency and power you expect from Class D amps—and the performance you expect from JBL. Each model in the lineup will accept both high-level or low-level inputs, allowing the JBL Stadium amplifiers to be added to virtually any car audio system, including factory installed systems. The 2-, 4- and 5-channel amplifiers offer Bluetooth® audio streaming, exclusive Clari-Fi™ music restoration technology that analyzes and improves the audio quality of compressed files in real time, a multi-pairing Party Mode that lets anyone in the car stream music, and a cabin-mounted control panel. GTR amplifiers give you the power to shape your car audio experience in new ways.