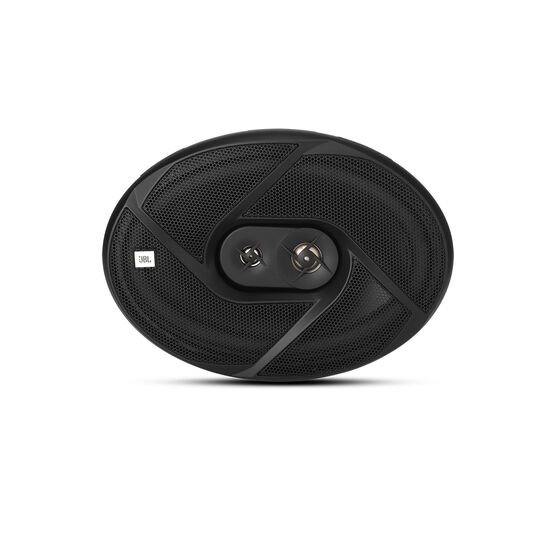 GT6-69
Details
https://www.jbl.com.my/car-speakers/GT6-69_.html?dwvar_GT6-69___color=Black-USA-Support
---
6" x 9" (150mm x 230mm) three-way, 210W
JBL® GT6 Series at a glance:
Complete line of multielement and component speakers Plus One® woofer cones with up to 30 percent more surface area than standard cones Titanium-laminate tweeters Vented motor assemblies Separate woofer and tweeter modules with external crossover (GT6-6C and GT6-5C only) Three-way design (GT6-69 only) Grilles with magnetic JBL® logo badges Performance-proven technologies.GT6 Series speakers share a number of innovative JBL® technologies and materials that give them a pronounced performance advantage over competing systems, more realistically recreating the experience of listening to live sound than anything else in their price range. Plus One® woofer cones.When is a 4-inch (100mm) woofer cone not a 4-inch woofer cone? When it has up to 30 percent more active surface area than a standard cone of the same size. All GT6 Series speakers feature patented Plus One® woofer cones and long-excursion surrounds that actually boost bass output and efficiency by two to three decibels, compared with conventional designs. That's an all-important difference – whether or not your system also includes a subwoofer. Titanium-laminate tweeters.As important as bass output is, realistic, full-spectrum audio also requires bright, pronounced high-frequency sound, but road noise is especially destructive of high frequencies. GT6 tweeters feature fast titanium-laminate diaphragms that ring out clearly above both the bass you want and the road noise you don't. Vented motor assemblies.The motor structures that drive nearly all speakers heat up during use, causing a form of distortion called power compression. Compression reduces a speaker's dynamic range by lowering its output level, robbing the sound of its realism. GT6 woofers feature vented motor structures that play louder and longer with less amplifier power than unvented designs. Component systems.GT6-6C and GT6-5C component systems feature separate woofer and tweeter modules with external crossovers for precise crossover control, and the tweeters may be flush- or surface-mounted and angled for optimum effectiveness. Three-way design.The GT6-69 features a three-way design that improves high-frequency clarity and presence with reduced impact from road noise. Go with the leader.JBL® GT6 Series automotive speakers will transform your listening experience on the road, bringing new levels of power and clarity to any car audio system. We get around. We can't guarantee that JBL® loudspeaker systems are in every theater and concert hall you've ever been to. We can't say for certain that your favorite music and movies were recorded, mixed and mastered with our studio equipment. All we can say is that we've been setting the standards of audio realism for more than 60 years and that the world's best-selling musicians, leading record labels and major movie studios trust us with their reputations and livelihoods on a daily basis. But you don't have to be a rock star or audio professional to enjoy rich, full-spectrum JBL sound. We're here for everyone – with great-sounding products for your home, your car and your desktop. And rest assured, our innovative consumer systems incorporate many of the same advanced technologies, materials and manufacturing techniques originally developed for our professional systems. If music is important to you, you should be hearing it the way it was meant to be heard, whenever and wherever you listen – and your car is a great place to
General Specifications
Type
6" x 9" (150mm x 230mm) three-way
Audio Specifications
Frequency Response
40Hz-20kHz
Power Handling (Peak)
210
Sensitivity
(2.83V/1m) 94dB
Dimensions
External Diameter (mm)
150mm x 230mm
External Diameter (in)
6" x 9
Documents & Downloads
The latest owner's manuals, quick start guides, and documents.