Leveraging the pedigree of the JBL D2415K dual 1.5-inch compression driver and mating it to a large format HDI horn, the new high-performance JBL 4349 is a monitor loudspeaker with accuracy and distinction.
NORTHRIDGE, California, July 28th, 2020 — JBL brings its acoustic experience and expertise to bear on the studio monitor category with today's introduction of the JBL 4349 Studio Monitor. This new high-performance studio monitor features the patented, widely acknowledged JBL D2415K dual 1.5-inch driver mated to a large-format, High-Definition Imaging (HDI) horn and featuring a 12-inch cast-frame, Pure-pulp woofer cone. The resulting 2-way design is a triumph for accurate sound reproduction and an affirmation of Harman's unique capacity to deliver professional-studio-grade performance for discerning consumers.
"The new JBL 4349 Studio Monitor enables music lovers at home to enjoy the same exceptional dynamics and accuracy that producers and engineers employ in leading studios," said Jim Garrett, Senior Director, Product Strategy and Planning, HARMAN Luxury Audio. "Now, by virtue of a transformative driver, mathematically brilliant horn and woofer design, and classic good looks — great sound has never been more at home."
Designed and engineered in Northridge, California — widely considered to be the global crucible of acoustic design — JBL's revolutionary High-Definition Imaging (HDI) horn geometry is the result of decades of exhaustive research into the nuance of horn design. Resulting from this pedigree, the JBL 4349 Studio Monitor delivers exceptional high-frequency detail, uniform directivity for smooth in-room response, neutral frequency response both on- and off-axis and seamless transition between the high and low-frequency drivers.
JBL D2415K compression driver features a pair of lightweight, polymer, annular diaphragms that improve high-frequency extension by reducing diaphragm mass. The V-shaped geometry of the annular diaphragm reduces breakup modes, eliminates time smear and reduces distortion resulting in incredible dynamics with accurate reproduction and a lack of power compression.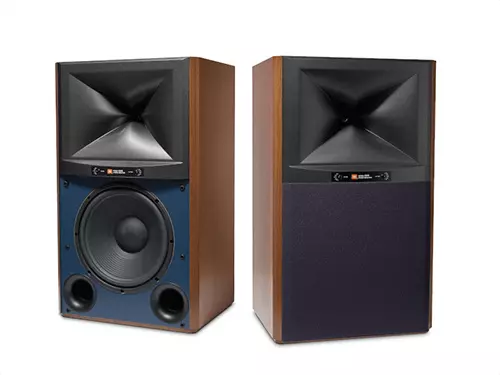 A powerful 12-inch (300mm) woofer on the new JBL 4349 Studio Monitor ensures very high output with low distortion. The 3-inch (75mm) long-throw voice coil in conjunction with dual opposing spider dampers guarantee maximum output with significantly reduced distortion. A Pure-pulp cone provides a lightweight, rigid diaphragm and helps to eliminate breakup modes ensuring proper pistonic motion throughout the operating band.
"This studio monitor loudspeaker will transform how music is enjoyed and appreciated at home," Garrett continued. "It will enable a wide range of music lovers to have a world-class, studio-grade experience in rooms of all sizes."
High-frequency and Ultra High-frequency attenuator controls on the new JBL 4349 Studio Monitor allow sound to be tailored to the specific environment and listener preference. These controls manage an advanced crossover network design that features air-core inductors, cast wire-wound resistors and low ESR metallized film capacitors in a multi-cap configuration.
The JBL 4349 Studio Monitor sports a classic JBL monitor design with a blue baffle and is finished in a choice of Walnut or Black Walnut furniture-grade satin wood veneers. A blue (Walnut) or black (Black Walnut) cloth grille completes the elegant appearance. Dual sets of gold-plated binding posts provide a secure connection and offer a choice of single-ended or bi-wire/bi-amplified connections. The enclosure is heavily braced with 1-inch (25mm) thick walls to provide a solid acoustic foundation and incorporates a bass-reflex design with dual front-firing, computer-optimized flared ports.
The perfect accessory to the new JBL 4349 is the JS-120 floor stands. Priced at of $300/pair, the JS-120 floor stands provide dedicated support and place the monitor loudspeakers in an optimal position for listening. The low-profile stands angle the loudspeakers rearward, enhancing frequency response, imaging, sound staging and detail.
"Every detail of the JBL 4349 Studio Monitor has been examined and every assumption has been challenged," Garrett concluded. "The result is a monitor loudspeaker that defies comparison and provides anyone, anywhere with a love of music to re-discover every track, re-visit with every artist and re-trace every musical journey. I promise that new nuance, new energy and dynamics will be revealed!"
The JBL 4349 Studio Monitor will be available for purchase in early September with retail pricing of $7,500/pair. Additionally, the recommended JS-120 floor stands are currently available at $300/pair.
ABOUT HARMAN
HARMAN (harman.com) designs and engineers connected products and solutions for automakers, consumers, and enterprises worldwide, including connected car systems, audio and visual products, enterprise automation solutions; and services supporting the Internet of Things. With leading brands including AKG®, Harman Kardon®, Infinity®, JBL®, Lexicon®, Mark Levinson® and Revel®, HARMAN is admired by audiophiles, musicians and the entertainment venues where they perform around the world. More than 50 million automobiles on the road today are equipped with HARMAN audio and connected car systems. Our software services power billions of mobile devices and systems that are connected, integrated and secure across all platforms, from work and home to car and mobile. HARMAN has a workforce of approximately 30,000 people across the Americas, Europe, and Asia. In March 2017, HARMAN became a wholly-owned subsidiary of Samsung Electronics Co., Ltd.
For more information contact:
Eva Murphy Ryan
Brand Definition
eva@brand-definition.com
+1 503-412-9985
Caroline Bresler
Brand Definition
carolineb@brand-defintition.com
+1 503-688-3662